GRANULATORS
The ITS granulators are designed to be integrated in complete recycling plants.
The special staggered blade rotor design make them the perfect choice when processing textile, pre-shredded tyres, RDF and other materials. A variety of rotor lengths and diameters and the possibility of installing...
Read more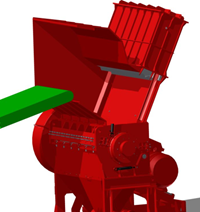 The SRF series of secondary shredders have been designed specifically for the size reduction of industrial, commercial and municipal solid waste for the production of Solid Recovered Fuel (SRF) and in other recycling application.
These shredders are available with rotors diameter ranging from...
Read more